In 2019 I moved into a new home with a nice garden and a bramble patch behind a fence. It's my dream to turn that wasteland into a beautiful allotment.
Welcome to the Covid Gardener, this is where I document the things I'm doing in my garden particularly converting my wasteland into a beautiful allotment. Hopefully, through this page you'll see what can be done in the garden during a pandemic or a lockdown.
The Covid Gardener is purely for my own pleasure – in that same narcissistic way that musicians 'only write songs for themselves'. So yes this page is for my own pleasure but I'm also a writer and acutely aware this blog is public to whoever is mad enough to read it.
So I hope that you, dear reader, get something out of it. And I will take any feedback onboard – particularly if you're a seasoned gardener; as I'm a novice.
Table of contents
Enter your email address to keep updated with the latest from my allotment.
Why the Covid Gardener?
I picked the name for this issue as a play on the novel title "The Constant Gardener" but mainly because of the Covid-19 pandemic.
The UK is in lockdown and without it I wouldn't have the time to work as much on my allotment as I've had. I'm now working from home which means lunch time can be spent out in the garden and if I finish work early (I work flexitime) then I'll be out in the garden for a bit in the evening as well.
I'm doing this for mental health and exercise
One of the things that's certainly become apparent to my family is the pace our society lives at. The lockdown has really given us the space to slow down, enjoy time together (which is usually rare) and explore things we love.
I'm a strong introvert which means I often struggle with all of my social commitments. Not that I don't want them, but just that they can become exhausting. So being isolated from the world has given me a new energy.
Plus, I can be a workaholic. I love what I do for a job and quite often I'll come home and work on more projects in the evening. There is always something new to learn or test in the digital world. But that's not always great for mental health and certainly not for physical fitness.
You see, one of the downsides of the digital world is that sometimes it feel like I'm shoveling sand in a desert. No matter how much you've shifted, there's always more. It's very rare to be able to stand back and see a finished product.
I'm not complaining. That's also one of the things I love about it.
But a garden is completely different. Sure there is always something that needs doing, that could be improved on, tweaked or done better. But at the end of a hard graft I can stand back and see the change in my garden. Then over months that graft is rewarded by new flowers, vegetables and plants.
I can sit in my plot of land and embrace nature.
So having my allotment and documenting it's progress is not only a break from the digital life but it's also a new hobby.
And yes, the irony of documenting it on a website is not lost on me – I'm still a digital native at heart.
Introducing my allotment
Before I go any further here is a before and after picture so you can see the difference. As you can see in the before picture the wasteland was crazy overgrown when we first moved in.
July 2019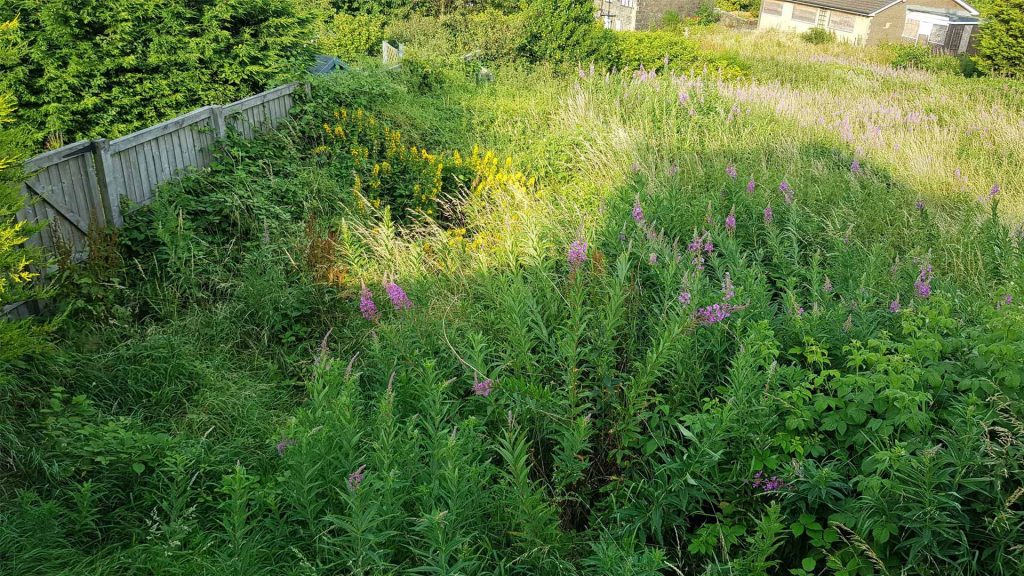 February 2021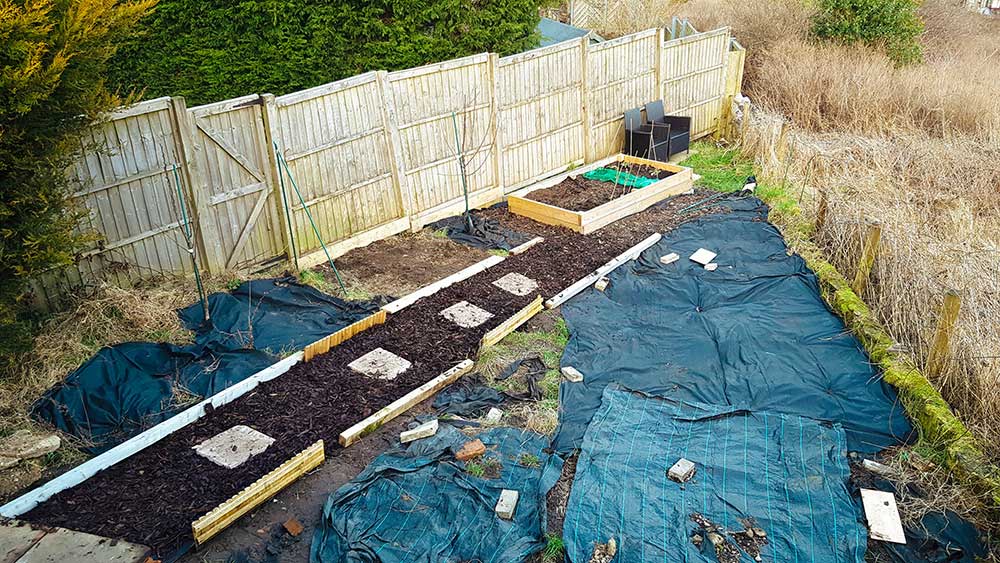 Allotment timeline
I've kept a photo journal to document how the allotment has changed from bramble wasteland to useful food production.
After each session I take a photo from roughly the same spot. And now you can see the transformation.
Enter your email address to keep updated with the latest from my allotment.