You don't need to pay for dynamic QR codes. You can create your own using a shortlink tool and InDesign or a free online QR code generator. The tech might seem complex but it's actually quite simple. Here's what you can find in this article:
Table of contents
QR codes are a useful tool for offline marketing and passing information to mobile phones, such as menus, website addresses etc.
But there is a problem.
You create a QR code that goes to your website. Then print 60,000 flyers ready for a marketing campaign, but the QR code directs to the wrong URL.
BIG problem.
It's going to cost a lot of money to reprint those flyers.
Don't pay for a QR code subscription service
There is a whole industry that wants to sell you a subscription to 'solve' this problem. They've coined two terms 'static QR codes' and 'dynamic QR codes' – which is marketing jargon for "pay me money".
A QR code is a QR code, no one has created an 'advanced' version. The only difference is static codes don't use a shortlink, which is easy enough to fix yourself.
You don't need to pay $10, $20, $50 a month for a QR code generator. Because you can make your own branded shortlink service for free, or $5/month if you don't already pay for website hosting – but you'll be in control.
If you work at UoH then we have our own shortlink tool that should be used for QR codes – speak to the Web Team in Central Marketing.
For everyone else.
Yourls.org is the best free, open source software for running your own shortlink service. But if you don't want to host your own, then by all means pay for a shortlink tool. But don't pay for a service that only gives you QR codes.
Remember this…
QR codes are free and easy to make
It's so easy. A number of websites will create them for you for free and Adobe Indesign now has a built in QR code maker. I've added a short guide on how to create QR codes with Indesign at the bottom of this article.
It goes something like this:
Add your own shortlink.
Generate QR code.
Add to print design
How do dynamic QR codes work?
A QR code holds text information, usually this is the URL of a website. That's it.
Let's create a 'static QR code' for this website, Vancano.com. Here it is:

Take your phone and use the QR code. It will take you to the homepage of this website.
You'll also notice that I've added tracking to the URL. The tracking will record in Google Analytics how many times that QR code is used. But because the URL was really long, the QR code has to be complex to hold the information.
Here's what's happening in your phone's browser.
The QR code tells your phone's browser to visit the URL on the right.

Let's do the same but using a shortlink or a 'dynamic QR code' as the salesmen like to call it.
Here's the dynamic QR code for my homepage.

Notice how it looks less complex. That's because the URL I'm using is a lot shorter and so the QR code has to hold less information. A benefit is you'll be able to print the QR code at a smaller size.
Take your phone and use this QR code. Notice how you still get to my homepage?
Here's what's happening in your phone's browser.

The QR code tells your phone's browser to go to the shortlink. The shortlink then redirects the browser to the destination URL.
The advantage here is that I can later change the destination URL in my shortlink tool. Also, Yourls provides stats about how many times the shortlink has been used. All of the things that these QR code subscriptions brag about being able to do.
How to create QR codes with Adobe Indesign
Create a new document.
I like to make it 210mm by 210mm, which is a square the width of an A4 piece of paper (A4 is 210mm by 297mm).
You'll then have a blank document like this: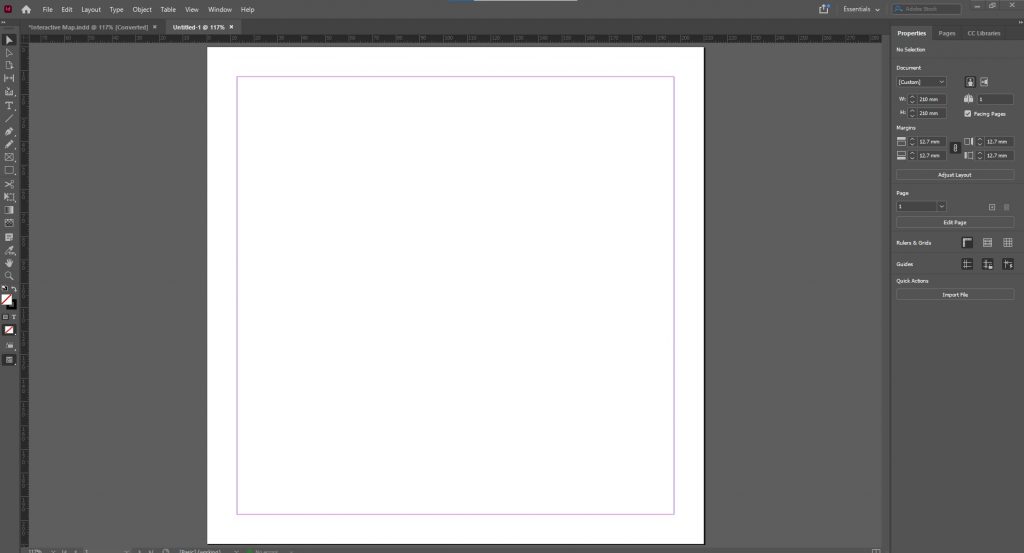 On the top menu go to
Object > Generate QR code
Makesure the "Type" drop down is set to web hyperlink. Then paste your shortlink into the text field and click ok.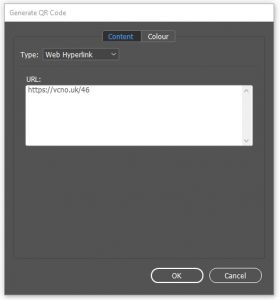 Your mouse cursor will have a QR code attached to it. Click where you want the code to appear and it will be placed in the document. You can then resize if needed and feel free to save the file at this point.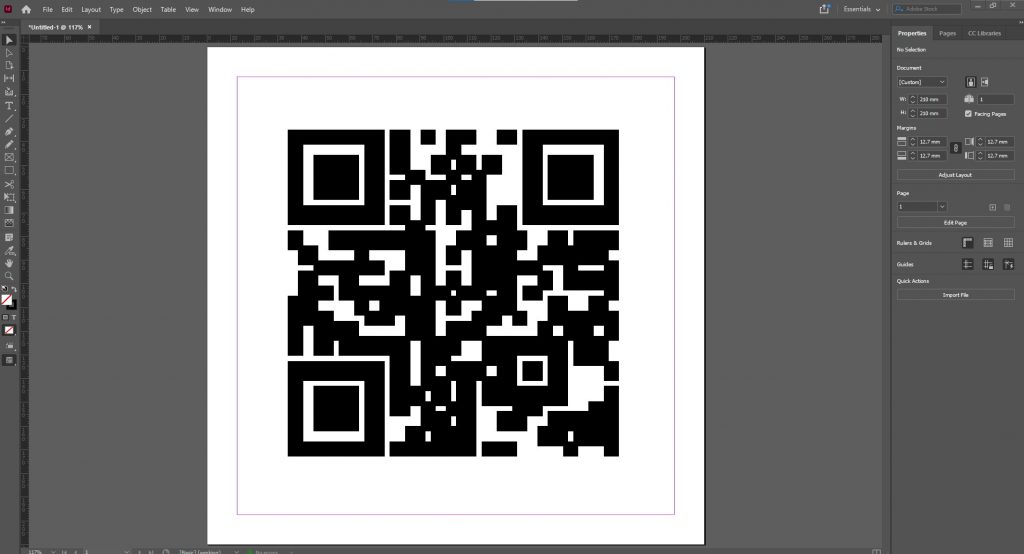 Next, go to the menu bar again
File > Export
Pick the location where you want to save the QR code and name the file. Then click ok.
A menu will pop up. I like to set the Image quality to High and resolution to 600ppi. Make sure Transparent background and anti-alias are checked in the Options. Then click export.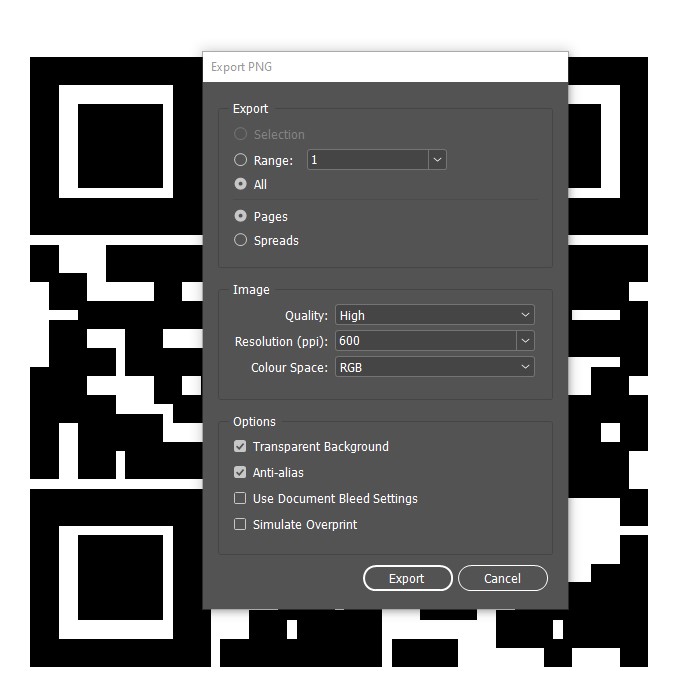 You've just created your own dynamic QR code. Though let's agree that this is the way all QR codes should be made, so we can drop the 'dynamic' simply call it a QR code.
How to change the destination URL
From now on you won't need to edit the QR code, reprint it or whatever. To change the destination URL you need to login to your shortlink tool.
For UoH employees that will be the shortlink tool. Speak to the Web Team if you need help.
If you're using Yourls then it's usually your shortlink domain with /admin
Enjoy your QR code and I hope it brings you lots of business.
Free QR code generators
Not everyone has access to Adobe InDesign. Thankfully there are loads of free online QR code generators, however you do need to be careful as many of them will try to get you to sign up to their subscription service or create an account.
Here are the free generators that will let you download an SVG without signing up for anything.

Wix – as much as I'm not much of a Wix fan, they've actually created a good generator that lets you download an SVG for free.
Tracking QR codes
I've realised that I've not talked about tracking links used in QR codes. I'll write a separate article about that, but as can be seen from my example above, the tracking needs to go on the destination URL.
UoH employees should follow the Link Tracking Manual for how to name your campaigns.