This is a 5 minute Spotify SEO experiment I did out of curiosity one lunch break.
The data isn't deep, the methodology isn't robust, but it's a bit of fun. If you're doing your own Spotify SEO experiments then maybe this will be another point of data for you. Who knows.
Starting position and meta information.
I'm a big fan of synthwave music and have curated my own playlist on Spotify. It's a playlist I've been listening to on repeat.
My playlist appears in position 15 when I search for 'synthwave' in Spotify. You can see in the image below, my playlist highlighted in green.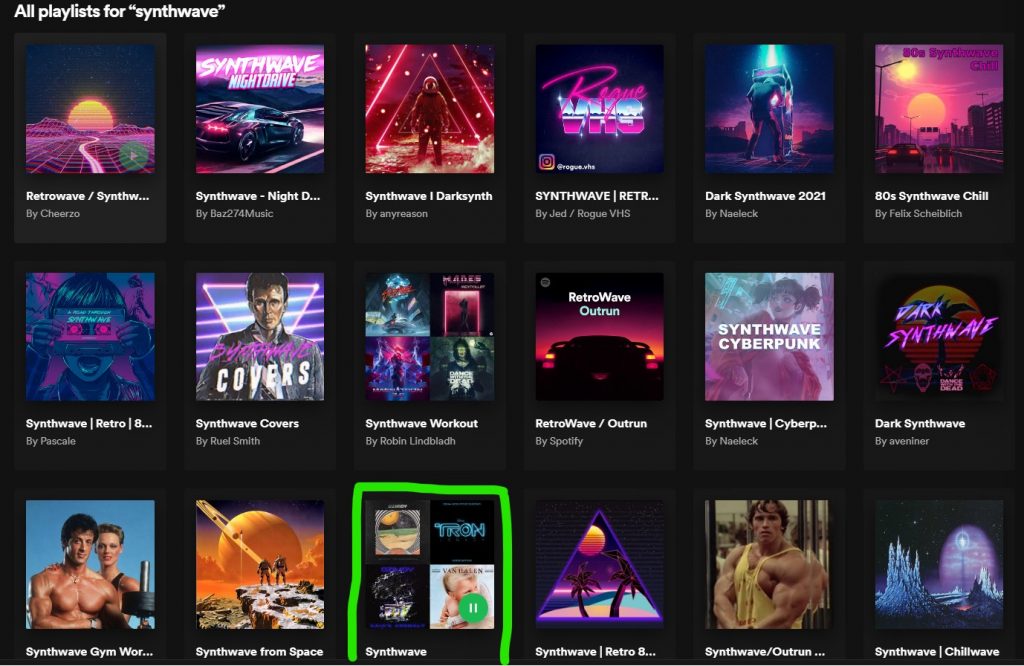 Title: Synthwave
Description: synthmark.io – these songs help inspire me while writing short stories for Synthmark.
Position: 15
Is Spotify search personalised or the same for everyone
I asked 4 of my friends to do the same search and my playlist didn't appear for any of them. They all scrolled quite a way to see if they could find it.
I expected the search to be personalised and this seems to confirm it.
What's interesting here is that Spotify is upranking the playlist for me because I'm the creator (expected), but it's only ranking it in the top 3 rows. Rather than putting it first for example.
My best guess is this is so the search remains a discovery engine and wont be filled with all of your own playlists. But it keeps your playlist 'within reach' just incase that's what you were looking for.
Experiment 1 – Change meta
In the playlist's options I can change the title and the short description. Here's what I changed it to.
Title: Synthwave | Synthmark inspiration
Description: synthmark.io – these songs help inspire me while writing short stories for Synthmark. Music inspired by 80s, Tron, Back to the Future. Alternate styles: Cyberpunk, retrowave, vaporwave, outrun
Position: 17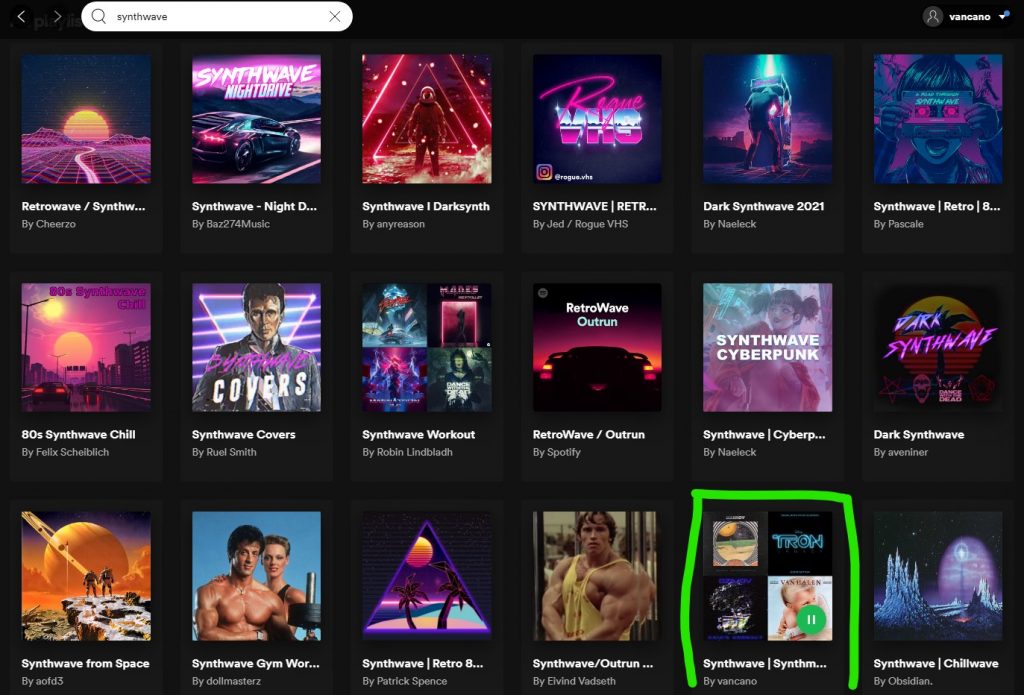 OUCH! It lost 2 places.
Stuffing the meta with relevant keywords sent my playlist back 2 places. Even though this is something the top playlist does. Here's the meta for the #1 playlist by Cheerzo
Title: Retrowave/Synthwave
Description: Retrowave, inspired by Stranger Things, Drive, Mr Robot, NewRetroWave, Dr Disrespect, 80s movies and video games. Modern production married nostalgic retro sounds – Always updated, instrumental retro wave with vocals. Similar Genres: Cyberpunk, Outrun, Synthwave and Vaporwave
Experiment 2 – Change meta back
Was this a fluke or if the meta is changed back does the playlist go back to position 15.
Title: Synthwave
Description: synthmark.io – these songs help inspire me while writing short stories for Synthmark.
Position: 15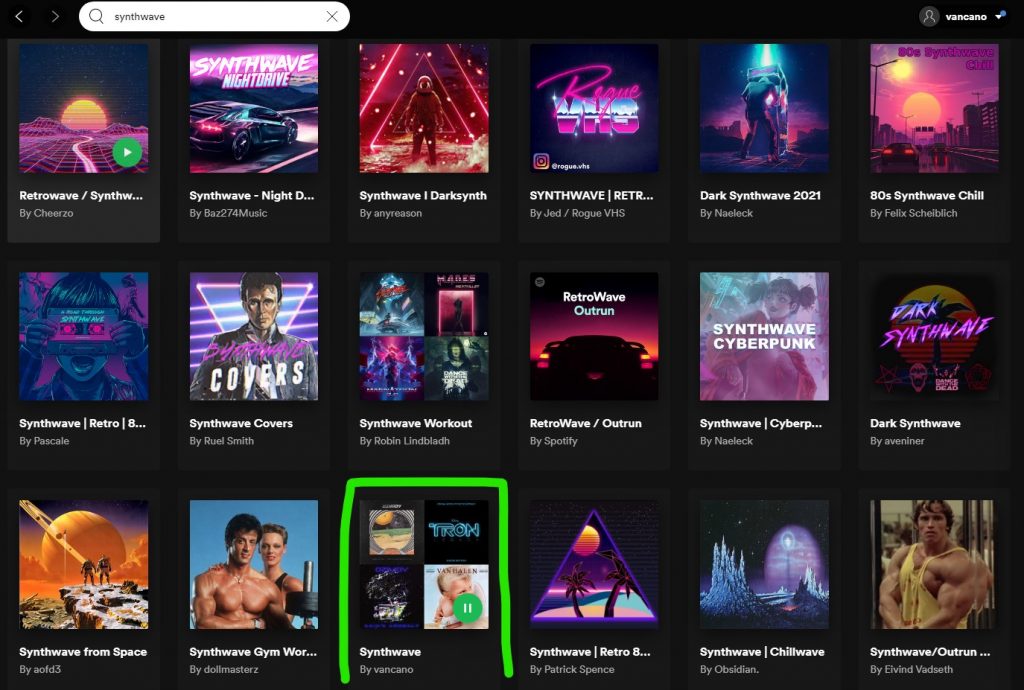 Changing the meta back put the playlist at position 15 again.
To check this wasn't a fluke I tried it a few times and got the same result.
A week later
I've come to write up this experiment a week later. Performed the same search and this time my playlist is 2nd. So maybe my 5 minute experiment doesn't actually mean anything other than being what it is, a bit of fun.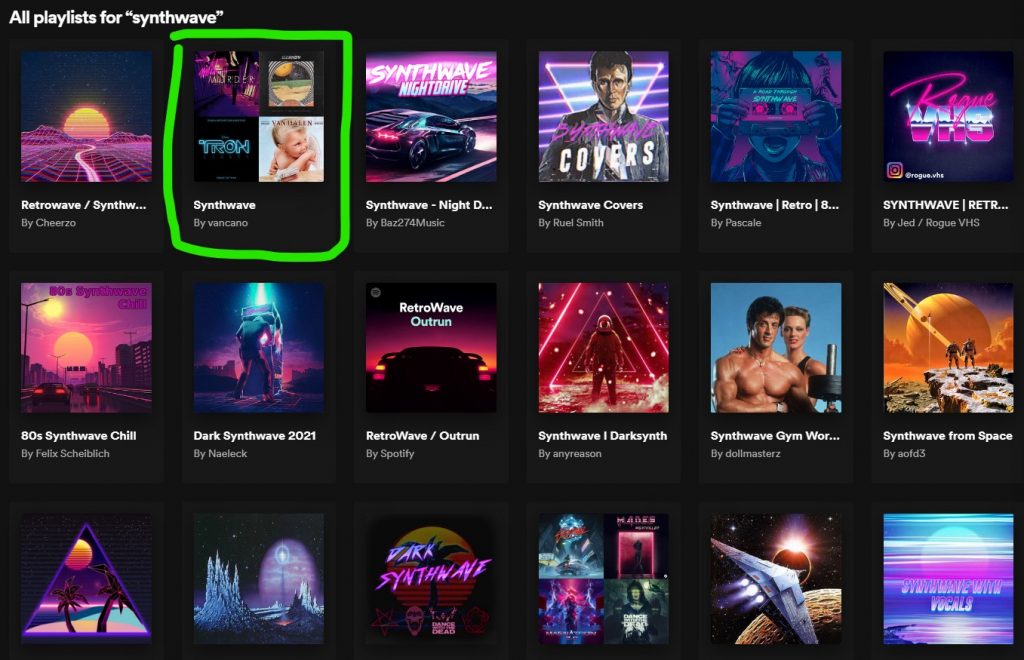 Next experiments.
As this was a 5 minute experiment I ended it there. However, I really want to know if adding a custom cover image will have a big impact or not. So when I have another spare few minutes I'll take one of my own pieces of retrowave art and upload it as a custom cover image.

Maybe then my friends might be able to find the playlist?
How do you rank your Spotify playlist high?
My money would bet that getting lots of likes for your playlist will make it rank higher. It seems that's the case, but it's not the only thing. No doubt Spotify has some sort of engagement metric as well.
Here are the likes for the top 5 results (excluding my own) when I search for Synthwave on the 12 August 2021.
Retrowave/Synthwave, 96,736 likes, 226 songs, 16hrs 14mins
Synthwave – Night Drive, 43,023 likes, 99 songs, 6hrs 45mins
Synthwave Covers 4,064 likes, 629 songs, 43hrs 31mins
80s Synthwave Chill, 10,372 likes, 369 songs, 24hrs 17mins
Synthwave | retro | 80s Vaporwave, 160,898 lkes, 107 songs, 7hrs 39mins
It's a bit of a spread when it comes to the number of likes and songs. However, they all have at least a few thousand likes and around 100 to 600 songs.
Other articles about Spotify SEO
Why Spotify Has So Many Bizarre, Generic Artists Like 'White Noise Baby Sleep' is an interesting read but if you work in SEO then nothing in it will surprise you.
That article is part of a bigger collection called The Cheater's Guide to Spotify. I enjoyed reading the whole collection. It's well worth a read even if you're not interested in SEO.